Welcome to Walking With Dinosaurs Wiki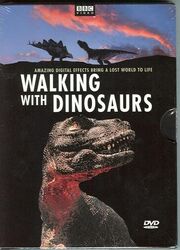 The Walking with Dinosaurs wiki is a wiki all about the Walking with Dinosaurs franchise, which includes the original series and its specials. The wiki format allows anyone to edit and create articles, so we can work together to build a brilliant Walking with Dinosaurs database!
Walking With Dinosaurs is a six-part TV documentary series for BBC. We follow the life of the dinosaurs through their glorious reign, right to their extinction. Several specials have been produced, and this wiki will have articles for them as well. 
Wiki News
Find news that has been removed from the Main Page - Archived News

24th September 2010: Toothless99 founds the wiki!
20th November 2010: Featured Articles are added to the wiki!
25th November 2010: Toothless99 removes Chasmosaurus' admin rights, returning him to the status of normal user
24th February 2011: Since Toothless99 has left Wikia, this wiki was in a bit of a mess. But now a new user, The Palaeontologist, has arrived, so this wiki should start becoming more active very soon.
24th February 2011: The Palaeontologist creates the 100th article, Rhinesuchus!
6th July 2011: The Palaeontologist creates a categorization system for the articles.
29th July 2011: The Palaeontologist creates the 200th article, Doedicurus!
New wiki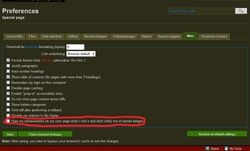 This is a new wiki, created in September 2010, and on the articles you will notice there are no discussion pages (except for the main page). That's what the comment section at the bottom of the page is for - discussion about the content page.
Also, please help expand the wiki by creating articles on the dinosaurs, specials, cast and crew.
We also have achievements enabled! If you have a login, but do not like the idea of achievements, simply enter your preferences and switch them off. Use the screenshot for more information (click to enlarge).
New users
Please visit your user page and edit it to tell the community about yourself. The next step for the new user is to start editing pages! Just click the 'Edit this page' link at the top of any page! If you need help, contact an administrator on their talk page, or ask on the forums. If you make enough good contributions, you might be considered for a rollback, administrator or bureaucrat position on the wiki!
Rules
1. Strictly NO VANDALISM - you'll just be blocked. Simple as.
2. No spam articles please.
3. Use British English please (not American English) Walking With Dinosaurs is a British made programme from BBC Natural History programming.
4. No offensive language please.
5. Ask permission before adding external links (links to other wikis don't count as external links unless they are totally irrelevant)
6. No adding nonsense to pages.
7. And yet by far most importantly, have fun and learn about the Walking With Dinosaurs franchise - but by the rules highlighted here!