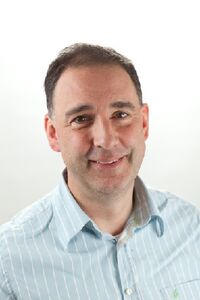 Tim Haines
is a British screenwriter and director. He is best known for his work on the popular BBC science shows
Walking With Dinosaurs
, Walking with Beasts and
Walking With Monsters
. He is also co-creator and executive producer of the ITV series
Primeval
. Primeval has run into 5 fantastically unique series in their own right, and it is likely a 6th Series will at least cap the progressive story. Tim Haines had also been working on science programming well before Walking With Dinosaurs, for instance, on the BBC Horizon Ice Mummies.
He has also written several books to go with the series' he produced, such as the companion book for Walking with Dinosaurs.
He claims that the film Jurassic Park inspired him and made him confident enough to trust that the computer graphics had reached a sufficient stage to convincingly animate long dead Dinosaurs, in a realistic background.
He has a BSc in Applied Zoology, from the University of Bangor.
His method of film making, was crucial for the Walking With Dinosaurs series to possess its unrivalled quality. He worked cooperatively with Palaeontologists, Animators and other advisors, as well as Storyboard Artists who aided in dramatising the key scenes of the episodes. Tim Haines himself commented upon how he always wanted to do a 'Trilogy of Life', covering the Dinosaurs, the Life after Dinosaurs, and then the Life before Dinosaurs - as he said, a bit like Star Wars back to front.
Another thing he noted for the Making of Documentary, was how it was exceedingly frustrating and difficult to locate suitable film backdrops - largely if he blamed one reason, because of the presence of the plant grass, which never actually appeared in the time of the Dinosaurs, but is all over this world today.