Tanystropheus



Lived

Late Triassic

Diet

Carnivore

Type of Animal

Aquatic Reptile

Size

Six Meters

Weight

TBA

Top Speed

TBA

Bite Force

None
Tanystropheus lived in the Triassic Period, and grew up to six metres long. Its most obvious feature was an enormously long neck.
Tanystropheus didn't appear in the original Walking with Dinosaurs series.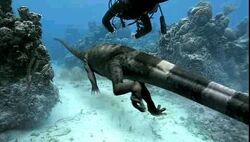 Tanystropheus featured in Sea Monsters and appeared in The Sixth Most Dangerous Sea, the Triassic of 230 Million Years Ago. However, the main hazards for this sea were Nothosaurus and Cymbospondylus. Tanystropheus was just a local inhabitant Nigel Marven happened to come across. Nigel manages to sneak up behind it and grab its tail, only for it to come off, like some lizards today.
It is memorably noted that Tanystropheus, has been evaluated by engineers and biologists to possess the longest possible neck length-to-overall length that is permissable under the Laws of Physics - so, if the neck was any longer in ratio with the rest of the body, the animal would simply not be able to exist realistically.
At 6 metres long, it is a bizarre shallow coastal water fish hunter of the Triassic Period, 230 Million Years Ago.
Tanystropheus is actually Nigel's most favorite sea creature out of every other sea monster.
Nigel favors this creature the most because he says it reminds him of the legendary Loch Ness Monster.